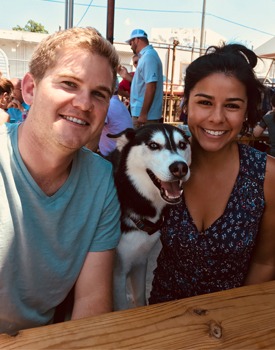 My name is Genesis Harmony (yes, that is actually my name) I am originally from Venezuela but my family moved to the US when I was five-years old. We lived in Florida for a couple of years and then moved to Tennessee.
I love being bilingual and being able to relate to the American and the Latino cultures. I am just as much American as I am Venezuelan and wouldn't have it any other way. I've been happily married to my husband, Patrick, for almost three years now. We have been together for a total of seven years and have been on quite a few adventures living in Texas, Florida, and now back in Knoxville, Tennessee. We were both raised in Knoxville and love being back. The Smoky Mountains are our backyard and that is usually where you can find us when we have free time. We love hiking/camping/anything outdoors. We have a four-year old Siberian Husky. She is our furry baby. We take her everywhere and if you follow me on social media, you already know I'm completely obsessed with her!
I graduated with a communication studies degree and a minor in business from the University of Tennessee in 2014. (Go Vols!)  I've always been drawn to social media because it is a great source of communication where you are able to tell your story/sell your brand/express who you are with visuals. So, obviously when I was given the opportunity to work with Harben Marketing, it was an immediate yes.  I started working here, three and a half years ago as a Digital Content Specialist and have moved up to Assistant Director of Social Media. What I love about this company is the drive. Every team member wants to be better, learn more, and push to do whatever it takes to take care of our customers. Everyone looks out for each other and when one team member needs assistance, there is always someone here to help. We have grown so much in the last three years and I'm looking forward to what the future holds for this company. I have a feeling it's going to be bright!